Shop at our Paws store for great gifts for your favorite people and pets!
PAWS has also partnered up with a variety of companies to help fund the care of our animals. Shopping at the companies below will donate money to our shelter! There is no better reason to shop than to support a great cause!
These high quality, durable beds and towers are built to withstand the punishment that pets often subject them to. You can also purchase Kuranda Beds for your own pets and by clicking the Dedicated PAWS Link above Kuranda will make a donation equal to 10% of your purchase to PAWS!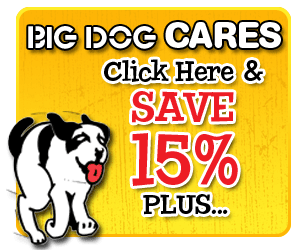 Now you can shop at Big Dogs and with every purchase made through our Dedicated PAWS Link above, Big Dogs will make a donation to PAWS! Shop at Big Dogs and not only will they give you 15% off your total, they will donate 15% of your order to PAWS and to sweeten the deal even more, spend $50 or more and receive free shipping! Now that's a deal that makes our tails wag!
Cathy Paukner of Cupcakes for a Cause brought together her love of food with her love of animals to undertake a venture to help pets in need. Cathy is generously donating 20% of her sales to PAWS! Cathy is a professional food stylist and has created a variety of mouth-watering flavors to fulfill every cupcake desire! A whimsical alternative to traditional cakes, cupcakes are perfect for birthdays, showers and even weddings! Each cupcakes is adorned with a pawprint M&M candy to remind you that you are helping our great pets.
Doggie Doo Not can keep your yard clean, neat and safe. You set the schedule that best fits your needs: weekly, twice a week, monthly, or even just clean up before a special event. They scoop and haul away what your dog leaves behind. Even your garbage man will love you - no more stinky garbage cans! Download & print their flyer and if you are a first time or returning customer, you can receive 1 free visit. And if you sign up for their service, tell them "PAWS Sent Me" and PAWS will receive a $100 donation!